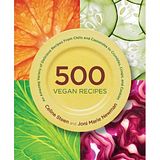 By now you've no doubt heard about the hefty tome penned by seasoned cookbook author Joni Marie Newman and blogger extraordinaire Celine Steen, 500 Vegan Recipes.  I mean it when I say this book is massive–at 512 pages and almost 2 pounds (900 grams), it weighs almost as much as I do (okay, I flatter myself; but I'm still adusting to this no-longer-obese me!). 
Just the first in a series of cookbooks, this includes-everything volume covers all the bases:  from an introduction on "What is a Vegan Diet?" (and why you should adopt one!) to chapters on every conceivable course and dish, to an extensive Resources section and full index, you'll find it all (or, at least, a variation of it) in these pages.
As an avid follower of Celine and Joni's blogs, I couldn't wait to order my book from amazon. I had some initial concerns that I might not be able to make many of the recipes given my ACD status; after all, Celine is famed as a baker, and I am not currently using many conventional baking ingredients in my menus (such as sugars, glutenous flours, dried fruits, yeast, or many nuts).  Add to that my dietary restrictions in general–no processed, refined, etc.–and I feared there would be precious few items to sample from the book.
I needn't have worried. Chapter titles range from "Breakfast" to "Sweet and Savory Muffins" plus others for dips, snacks, salads, soups, pastas, side dishes, sauces and condiments. There are four chapters that cover entrées and seven (seven!) covering baked goods and desserts such as breads, cookies, pies, crumbles, cakes, candies, and puddings or ice creams and "libations."  Clearly, this book has something to offer every eater, special diet or not!
Hallmarks of the individual authors' cooking styles are also evident in the book.  Celine's influence is detected throughout in the quirky ingredient combinations and wildly creative baked goods (Cookie Crumble Granola; Salsa Bread Rolls; Matcha Spelt Rolls with Bittersweet Chocolate Filling and Almond Icing; Pumpkin Chocolate Brownie Cake; Chocolate Tahini No-Bake Barley Bars, to name a few), while Joni's touch is discernible in the many southwestern-themed recipes and her flair for converting "standard" dishes into vegan deliciousness (Buttermilk Biscuits and Gravy; Inari with Spicy Sushi Sauce, Au Gratin Potatoes,  Spicy Chorizo Veggie Pie, Granny's Meatloaf, Hot and Spicy Buffalo Sauce, and every kind of faux meat you can imagine). After a while, I was like a Beatles groupie poring over old albums, guessing the origin of each song:  I bet John wrote this one.  That one sounds like Paul. . . .
No matter who created it, though, I am happy to report I was pleased with every dish I tried–and that the HH, too, was a fan (especially of the eggplant and lentil pilaf).  Recipes were easy to follow and the ones I made came together quickly and without a hitch. They're also highlighted with keys to ingredients, such as "low fat" or "gluten free," so you can pinpoint those that will work best for you.
For those of you who prefer cookbooks with photos, I should note that they are not included in this book.  However, you can view pics of many of the goodies at the flickr page that was created for the book.
Even if you're a long-standing vegan cook, there will be something novel for you in 500 Vegan Recipes.  And if you're new to veganism–or are simply looking for some healthier, lighter options at mealtimes–this is a great introduction to plant-based recipes. As for me, I'm counting the days until I can create more conventional baked goods again, and delve into some of those final seven chapters in the book!
Here are a few of the dishes I made (some with adjustments for my diet), with commentary.  Pull up a chair and enjoy the feast (and don't forget to enter the giveaway at the end of this post!)
Ginger Soy Tofu Satay with Simple Thai Peanut Dipping Sauce
A quick and easy dish to make, packed with Asian flavors.  I used almond instead of peanut butter, of course, but that didn't diminish the dish in any way.  I loved how simply these came together.  And how can you resist grill marks?
Veggie Curry Feast
Another super quick and simple dish, highlighting healthy cruciferous veggies.  As you can see from my photo, I was likely a little heavy on the veggies in this one, so the sauce was a bit sparse (I'd double the sauce ingredients next time).  Spicy, but not too much so, and extremely enticing, this was wonderful served on rice the following evening.  Both the HH and I had seconds of this one.
Eggplant, Lentil, and Rice Pilaf
Yee-haw! This one is spi–say!  If you like hot foods, you'll love this all-in-one meal (and you can easily tone it down by adding less cayenne).  A terrific comfort food for those damp, cool evenings in springtime, this Indian-inspired curry will definitely become a dinnertime staple. I apologize for the lack of photo–we gobbled it up before I snapped one!
Veganzola Balls
This was my favorite of the recipes I tried, and high on the HH's list, as well.  In fact, he specifically requested that I make this again.  If you miss those big cheese balls everyone used to hover around at parties, you must try this. This recipe is also the one I used in the first version of my cheese-filled olive and onion bread, and it was astonishingly good baked into the loaf.  Smooth, smoky, with a slight sweet undertone, this cheese can be spread on crackers, added to rolls or bread, or just eaten from the spoon. 
Walnut and Currant Veganzola Balls (reproduced with permission from 500 Vegan Recipes)
[Veganzola as base for a lettuce wrap lunch]
Who says vegans can't have cheese balls? Seriously, these are very, very cheeselike. Besides spreading on crackers, this also tastes amazing crumbled over a green salad or as a sandwich spread. [Ricki's note: also great baked into bread.  I've included the ACD substitutions I made here–still fantastic!]
10 ounces (280 g) extra-firm tofu, drained and pressed
2 Tbsp (30 ml) extra-virgin olive oil
2 Tbsp (16 g) flax meal mixed with 2 Tbsp (30 ml) warm water
1 Tbsp (18 g) white miso
2 tsp (10 ml) minced garlic
1 tsp (5 ml) liquid smoke (use 1/2 tsp or 2.5 ml smoked paprika for ACD-friendly version)
1 cup (120 g) walnuts, broken into small pieces
1/2 cup (80 g) currants (use grape tomatoes for ACD-friendly version)
salt and pepper, to taste
In a mixing bowl, crumble the tofu until it resembles ricotta cheese.  Add the olive oil, flax mixture, miso, garlic, and liquid smoke. Mash together until uniform. Mix in the walnut pieces, currants, and salt and pepper. [Note: I used a food processor for this step; I prefer a smoother mixture.] Form into two equal balls, form into a log, or simply place in a serving bowl.  Yield: about 2-1/2 cups (563 g).  [Mine kept in the refrigerator, covered, for up to 4 days].
And now. . .  A COOKBOOK GIVEAWAY!
Celine and Joni have graciously agreed to give away a copy of the book to a lucky DDD reader! 
All you need do to enter the draw is leave a comment on this post.  Of course, you can earn extra entries the usual ways–by posting about the giveaway on your blog, twitter or Facebook (and also linking to this post)–though these others are totally optional.  If you do post elsewhere, please come back here and comment again to let me know you did so; this makes tabulating entries so much easier.
The contest will remain open until midnight on Friday, April 2nd, after which I'll randomly draw a winner.
Good luck, everyone! 🙂
Last Year at this Time: Maple Cupcakes with Maple Buttercream
Two Years Ago: Lucky Comestible II(2): Almond-Quinoa Muffins
© 2010 Diet, Dessert and Dogs