Are you a pumpkin lover? I had several twitter exchanges last week about how fall means "pumpkin" for so many people.  I have to admit that I've been eating lots of it myself since I first roasted those seeds last week.  More recipes to come!
Last week's event featured four pumpkin-based recipes, so we were right on track! Also four with banana, four with apples–plus a huge array of dishes with other fruits and veggies, too from a chocolate-cherry combo to BBQ Veggie and Pineapple Kabobs! A great way to jump right into the season.
Newsy Tidbits
Do you have a blog linky event, giveaway or other event you'd like me to mention? Send me an email with the details and I'll include a few each week (depending on how many requests I get, I may not be able to include them all).
PLEASE DO NOT ADD YOUR GIVEAWAYS OR CONTESTS TO THE LINKYS BELOW–THEY ARE FOR RECIPES ONLY. I will list the events under "Newsy Tidbits" for you if you send me an email. 🙂
This Week's Picks:
Here are some of my favorite links from last's week's Wellness Weekend on the theme of "Fall Foods" (and please feel free to pin any of them directly from these photos–just hover your cursor over the photo, then click on "Pin It"):
Aubergine (Eggplant) and Tomato Curry from Veg Hot Pot. A simple, hearty way to welcome the autumn to your table.
Raw Buckwheat Porridge from Simone's Edible Adventures. Two of my favorite things: raw food, and porridge! I bet this makes an incredibly satisfying breakfast.
Garden Veggie Spaghetti Sauce from The Vegetarian Mamma. A great way to use that abundance of garden veggies this time of year!
Sugar-Free "Apple Cider" from What Smells So Good? This is one of my all-time favorite cool-weather beverages.  So easy, and so good for you!
And This Week's Readers' Choices:
Readers' Choice, Savory:
This Creamy Butternut Squash and Autumn Veggie Casserole from Rebel Girl Kitchen was this week's savory fave. Can't think of a better way to get those veggies!
Readers' Choice, Sweet:
Another cookie grabbed the top spot this week, with  Flourless and Sugar-free Chocolate Chip Cookies from Tessa the Domestic Diva. Another great choc chip cookie recipe to add to the collection!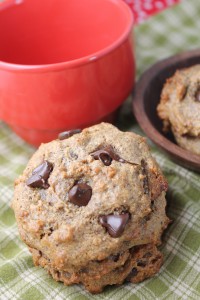 Thanks for joining in and sharing all your healthy, sugar-free and vegan recipes. I love seeing what you whip up each week! And I hope you'll also share on twitter and Facebook (there's a new, shorter twitter hashtag, too, so you can write more about the food: #WWknd as well as the original #WellnessWeekend).
Here's How to Participate:
The event occurs once a week, starting Thursdays at 8:00 PM my time and running until the following Monday at midnight.
Simply link up a vegan recipe you made (and posted about) that contains health-supporting ingredients. This means any good-for-you whole foods, especially those with antioxidant properties or "functional foods" (ie, offering naturally medicinal or health-promoting qualities–such as garlic, coconut oil, all vegetables, fruits, herbs, etc.)–but any fresh, real food is welcome! No-no's include white flour or sugar, highly processed foods, or animal products. Items like vegan protein powder, grain or bean flours, or coconut milk are fine even though they are technically "processed." Also, if you render a recipe vegan-friendly by adding a vegan option to your ingredients, your post will be good to go!
This is a recipe event. Your blog post must contain a recipe.
You may link up older posts from your archives as long as they contain a link to this post. Please do not link up any posts you have previously shared at an earlier Wellness Weekend event.
Please link the post with your recipe, NOT your blog's home page or another event page.

The post must contain a recipe.

You may submit up to three recipes, but please follow the guidelines for each one individually. ONLY ONE THUMBNAIL FROM EACH BLOG POST, PLEASE. If your post contains two suitable recipes, link up once and people will still see all your fabulous recipes when they click on the linky. 🙂
Please mention this event and include a link back to this post so that others can find all the recipes posted!
Feel free to use the blog badge, above (or see the left sidebar of this page–if you need the html code, let me know and I'll send it to you). Many thanks to Adrienne of Whole New Mom for setting up the badge code for me!
PLEASE NOTE: In order to promote your posts and the event, I like to occasionally tweet, mention on Facebook, or pin your blog post(s). On occasion, I will repost your photos in the following week's Wellness Weekend as well. If you prefer that I NOT use your photos or links, please let me know in the comments below, or send an email to me at dietdessertdogsATgmailDOTcom. Thanks!
I will reluctantly remove any links that don't comply. I apologize, but I will no longer be able to leave a comment telling you that I've removed a non-compliant link. I hate to have to remove links! PLEASE READ THE GUIDELINES BEFORE POSTING!
And n0w. . . what have you been cooking up lately? Please share!
Never miss a recipe–or a comment from The Girls! Click here to subscribe to Diet, Dessert and Dogs via email. ("We love subscribers, Mum. . . almost as much as we love treats!").